Anna Maria Di Giorgi – English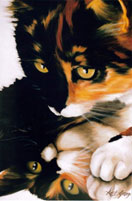 The artist Anna Maria Di Giorgi was born in Trapani but lives in Gaggiano, Milan.
Her finely developed eclecticism enables her to range from pictures to cartoons, portraits and decoration, using many very different pictorial techniques (oil, charcoal, collage etc.).
Her specialization in animal drawings, executed live at the artistic handcraft markets and cat exhibitions that she attends, or from photos, is winning Annamaria considerable success from her increasing group of admirers, as a result of her undoubted artistic talent and her ability to give a highly personal touch to all her portraits of cats and dogs (but her portfolio includes rarer animals too!).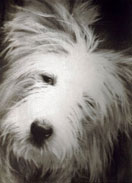 One of her most charming ideas has been that of proposing drawings and portraits hand-painted on clothing and accessories with permanent colours, making it possible to "wear" works of art for long periods of time without fear of ruining them.
You're invited to visit the pages of this site and admire the extensive gallery of artworks, divided on the basis of the techniques used.
Anna Maria is willing to execute works on commission.
You can get in touch with her by phone or e-mail (also see the Contacts page on the site for details) or meet her personally at one of the many events she attends. You can find information about these on the News page on the site.
Thank you for your visit and … happy navigating!
---